ATHINIOS PORT
Santorini Port Transfers by Santorini Holiday Transfers. Santorini Holiday Transfers is a Santorini shuttle and taxi transfer service that provides transfer and transportation from or to Fira, Oia, Athinios port, Kamari, Perissa, Santorini Airport (JTR) to/from your hotel, or any other destinations in Santorini island.  Whatever your destination in Santorini, our experienced drivers will be able to help you and make your transfer and super shuttle comfortable, reliable, and safe. We are proud to offer you safe, efficient, and reliable transportation services fro/to Santorini Athinios Port.
The ships to Santorini arrive at Athinios port, while only cruise ships dock at the old port of Fira. Ferries from Piraeus to port Santorini operate daily. Depending on the ship you choose and the route, the duration of the trip varies from 5 to 9 hours.
If you travel by high-speed boat from Piraeus to Santorini, the duration of the trip is the fastest but also the most expensive. Whichever ship you choose, enjoy stunning and marvelous views as the ship arrives on the island. Once the ship enters the Athinios Port and the visitor is between Santorini and Thirasia (a small island in the caldera), it is overwhelmed by the incredible beauty of the cliffs and the bright sky, unlike the deep blue of the sea and the brown of the volcanic rocks that create a scenery unique in the whole world.
The more the ship approaches Santorini, elements of human presence – small white houses and blue-domed walls – appear to be high up on the edge of the cliff – which are another impressive picture that will remain unforgettable!
Santorini Port Transfers
Santorini is one of the most popular summer destinations in the world. There are 2 ports in Santorini. The old port is in Fira (the capital of the island) and the other port is called Athinios and is the new port of the Santorini island. Athinios is 12 km away from Fira and serves all the major shipping companies that come from Athens (Piraeus port) or Crete.
The new port of Santorini (Athinios) is located southwest of Fira and there you will find cafes to enjoy your coffee in case of waiting for the ship as well as travel agencies to serve you. Because of the morphology of the soil and the rocks, the road leading to Athinios is narrow and convex. Santorini Holiday Transfers provides transfers from/to Athinios Port with fully inclusive pricing, no hidden extras Santorini port super shuttle bus, taxi, and minibus transfer service.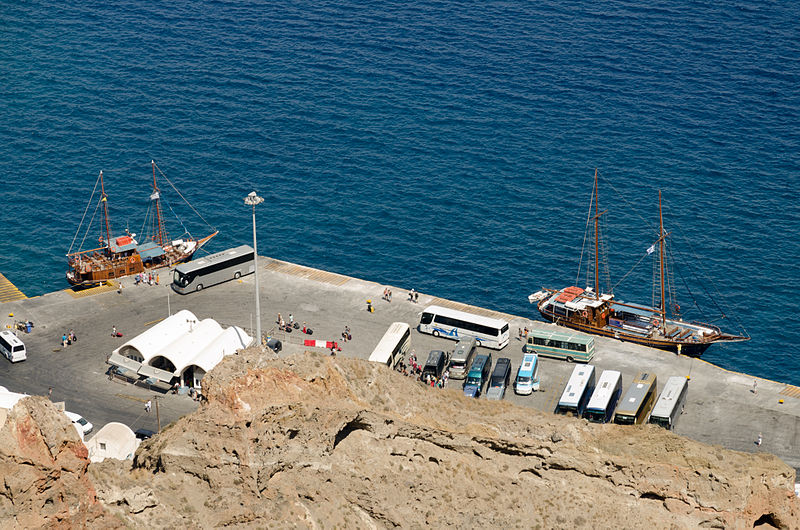 Authorities Information
Port Authority of Piraeus, Greece
Tel: +30 210 414 8800
Tel: +30 210 451 1311
Tel: +30 210 422 6000-4
Read More about Port Authority of Piraeus
Port Authority of Rafina
Tel: +30 22940 28888
Read More about Port Authority of Rafina
Port of Santorini Greece
Tel: +30 22860 22239