SANTORINI AIRPORT TRANSFERS
With Santorini Airport Transfers services by Santorini Holiday Transfers, you may enjoy the convenience, luxury, and security that will make your trip really memorable.
When visiting Santorini, the magnificent Greek island noted for its gorgeous landscapes and breathtaking sunsets, it is important to ensure a smooth and pleasant journey from the airport to your destination. In this essay, we will look at the unrivaled advantages of Santorini Airport Transfers services by Santorini Holiday Transfers, emphasizing our dependability, contemporary automobile fleet, and dedication to client pleasure.
Santorini Airport Transfers are hassle-free and personalized
We appreciate the importance of a stress-free start to your trip at Santorini Holiday Transfers. You won't have to deal with long taxi lines or overcrowded buses when you utilize our service. Our specifically-for-you car ensures a customized and pleasant transportation experience. Whether you're flying into Santorini Airport or need transportation to the airport from anywhere on the island, our Santorini Airport Transfers service is tailored to your individual requirements.
The Benefits of Hassle-Free and Customized Transfers
Convenience: Santorini Airport Transfers services by Santorini Holiday Transfers allow you to avoid long taxi lines and crowded buses. Our dedicated vehicle is only for you, ensuring a smooth and convenient transfer.
Personalized Service: We put your needs and preferences first. Our professional drivers offer personalized service, ensuring your comfort and a pleasant ride from the airport to your destination.
Comfortable Transportation: Our vehicles are outfitted with modern amenities and are meticulously maintained to ensure your comfort during your transfer. Sit back, relax, and enjoy the ride in a spacious and comfortable environment.
Time-saving and efficiency: Santorini Airport Transfers services by Santorini Holiday Transfers are designed to minimize waiting times and delays. Your driver will be waiting for you when you arrive with our pre-booked service, ensuring a timely and efficient transfer to your destination.
Safety and dependability: We place a premium on the safety of our passengers. Our drivers are knowledgeable about local road conditions and traffic regulations, ensuring a safe and secure journey.
Peace of Mind: When you choose Santorini Airport Transfers services by Santorini Holiday Transfers, you can relax knowing that your transportation needs are being met. Our dependable service ensures a worry-free transfer experience whether you're a solo traveler, a couple, or a group.
Local Expertise: Our drivers have in-depth knowledge of Santorini, which enables them to go about the island quickly. They could offer helpful advice and insights that would improve your trip in general.
Flexibility: Our transfer services are adaptable and may be customized to meet your unique needs. No matter if you need a one-way or round-trip transfer, have unique demands, or need more stops, we work to meet your needs and make your travel as convenient as we can.
Santorini Airport Transfers are available 24 hours a day, seven days a week, so no matter what time you arrive, you can get dependable transportation. We provide a worry-free transfer experience because we are open day and night.
Customer satisfaction is our first priority, and we work hard to go above and beyond your expectations. Our crew is committed to providing outstanding service and making sure your trip is smooth and pleasurable from the time you book your transport until you get to your destination.
For convenient, individualized, and dependable transportation that ensures seamless and enjoyable travel from the airport to your destination, use Santorini Airport Transfers.
Santorini Airport (JTR) – The Island's Gateway
Santorini Airport, also known as Thira Airport, is located on the island's eastern side, close to the settlement of Kamari. It serves as a vital transportation hub for travelers to Santorini being the largest airport in the southern Aegean Sea. Following the airport's privatization in 2015, major efforts were made to improve its infrastructure and services. These enhancements are intended to accommodate the rising tourist traffic while also providing travelers with a more comfortable travel experience.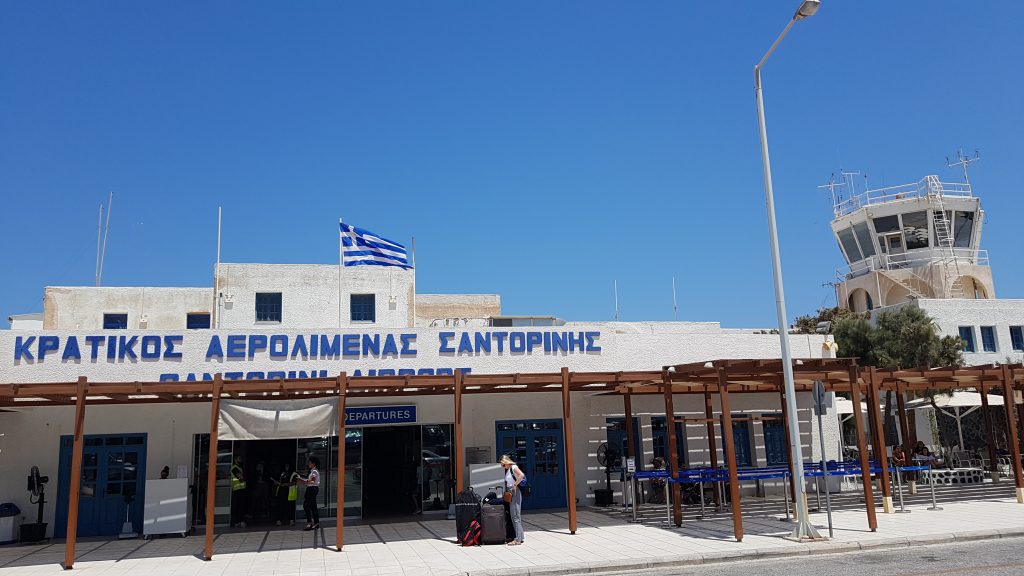 Safety and Modern Car Fleet
Santorini Holiday Transfers is proud of its modern car fleet, which provides unrivaled comfort and safety. We recognize the significance of offering a diverse range of car categories to meet the diverse needs of our customers. We have the perfect vehicle for you, whether you prefer a luxurious sedan, a spacious van, or a conventional minivan. Our dedication to safety is reflected in our stringent maintenance procedures, which ensure that every vehicle in our fleet is in excellent condition.
Benefits of a Safe Fleet of Vehicles:
Enhanced Safety Measures: The security of our clients is a top priority for our Santorini Airport Transfers. To guarantee maximum performance and passenger safety, our fleet of contemporary vehicles is outfitted with cutting-edge safety features and undergoes routine maintenance.
Professional and Experienced Drivers: Our driving staff is made up of seasoned experts who have received defensive driving instruction. They can guarantee a secure and safe transfer because of their in-depth knowledge of the area's roads and traffic patterns.
Comfortable and Stylish Vehicles: To suit your preferences, our modern car fleet includes a variety of stylish and comfortable vehicles. We provide a variety of options to ensure a relaxing and enjoyable transfer experience, ranging from opulent sedans to roomy vans.
Dependability and Reliability: To ensure dependable performance, our fleet of contemporary vehicles are well-maintained and subject to routine inspections. You can rely on our vehicles to transport you from the airport to your destination quickly and conveniently.
Modern Vehicles: Our fleet of contemporary vehicles is outfitted with cutting-edge technology, such as real-time traffic updates. This gives our drivers the ability to select the fastest routes, saving you time and guaranteeing a prompt arrival.
Impeccable Cleanliness: We take care in keeping our cars immaculate. Each car in our current fleet is professionally cleaned and sanitized before and after each transfer, guaranteeing a sanitary and comfortable atmosphere for our customers.
Capacity Flexibility: Our contemporary automobile fleet has capacity flexibility. We have cars of various capacities to fit your unique demands, guaranteeing a comfortable and roomy transfer experience.
Attention to Detail: Our current automobile fleet demonstrates our dedication to offering superior service. From the well-kept exteriors to the cozy interiors, every part of our cars is created with care to enhance your entire experience.
Aesthetics: Our current automobile fleet features sleek and attractive aesthetics that give a good first impression. Arrive in style by making a statement with our highly beautiful automobiles.
Santorini Airport Transfers services by Santorini Holiday Transfers provide a blend of safety, dependability, and contemporary cars to provide a comfortable and joyful transfer experience. Travel with confidence, knowing you're in good hands and in a contemporary and beautiful automobile fleet.
Your driver is waiting for you
When you reserve a Santorini Airport Transfer, you can be sure that your driver will be waiting for you when you arrive. There's no need to worry about hailing a taxi or navigating public transportation. Our professional and experienced drivers will warmly greet you, assist you with your luggage, and ensure a smooth and efficient transfer to your desired destination. Sit back, relax, and take in the scenery while we handle your transportation needs.
Car Rental at the Lowest Price
If you prefer to explore Santorini on your own schedule, Santorini Holiday Cars provide an excellent car rental service. When you rent a car from us, you can save up to 40% on online reservations. You can not only use the car to get to and from the airport, but you can also pick it up when you arrive and drop it off when you leave, providing ultimate convenience and flexibility throughout your stay.
Santorini Airport Transfers by Santorini Holiday Transfers is your ticket to a stress-free trip to the enthralling island of Santorini. Our dedication to convenience, comfort, and safety ensures that your trip from the airport to your destination is smooth and enjoyable. We strive to exceed your expectations and make your trip to Santorini truly unforgettable with our modern car fleet, professional drivers, and personalized service. We are here to provide the best transfer options tailored to your needs, whether you choose our Santorini Airport Transfers or car rental service. Book your Santorini Airport Transfer today and begin your journey.