SANTORINI AIRPORT (JTR)
Our experience, the modern car fleet as well as the safety of our Santorini Airport Transfers, guarantees your excellent service through Santorini Airport Transfers (JTR) and your direct and comfortable ride. Our Santorini Shuttle Express service guarantees your convenience, comfort, and safe transfer to and from any destination or hotel within the island.
With our service, there are no long taxi lines or crowded buses to worry about. Our vehicle is only for you and can transport you upon your arrival with a shuttle bus or Airport taxi from Santorini airport to Fira, Imerovigli, Oia, Kamari, Perissa, and any other location or hotel on the island. Of course, we also provide taxis to Santorini airport transfers from any destination.
Santorini Airport (JTR), also known as Thira Airport in Greece, is located on the eastern side of the island, near the village of Kamari. It is the largest airport in the southern Aegean Sea and operates as a military airport. Its apron area is small, the airport can only serve 6 civil airplanes at a time.
Started its operation in 1972. In December 2015, the privatization of the airport and 13 other regional airports in Greece with the signing of the agreement between the Fraport AG / Copelouzos Group and the Greek Government.
The aim of privatization is to develop the infrastructure so that it can serve the increasing tourist flow to the island, reorganizing the apron area as well as modernization of its facilities to improve the overall customer travel experience. The plan of upgrade works in Santorini Airport will start in 2018.
Santorini Airport's (JTR) tower (118.05) also serves as an approach/departure to FL170.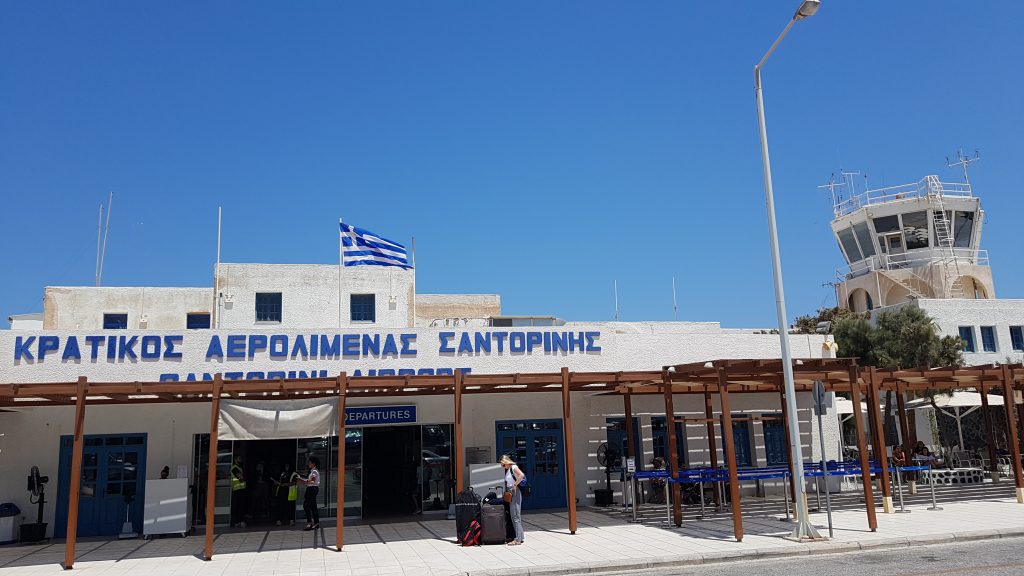 Transfers to and from Santorini Airport (JTR)
Having won the trust of our customers for our continuous and successful transfer services in Santorini, Santorini Holiday Transfers offers unique solutions for every transfer on the island. Santorini Holiday Transfers has a brand new and luxurious fleet with a wide variety of car categories, so you can choose the vehicle that best suits your needs. We can meet the requirements of an ambitious determined customer, recognizing that some visitors have higher needs and expectations.
Unsurpassed comfort and safety! Why settle for less?
The incomparable comfort and the unique safety features offered by Santorini Holiday Transfers make your transfer to Santorini a special experience!
Santorini Airport Transfers: Your driver waiting for you
Make your reservation for private airport transfer through our site for Taxi, Van, or Minivan.
Best price by car rental
Santorini Airport is located on the eastern side of the island. You can rent a car and get up to 40% discount for online reservations, and in addition to using it for your transportation to the island, you can either pick it up at the airport upon arrival or leave it there when you leave (after being informed at the rental office)